Kishor Sridhar as a person
Kishor Sridhar lives with his wife and three children in Munich. He grew up (mostly) in Germany as the son of an Indian scientist and a German employee. His middle name is Helmar, from the German legend world.
He lived in India, the USA and Russia, to which he still feels very connected. He loves the modern art of the 20s and 30s and enjoys German and international classical literature, as well as Indian and Western philosophical writings.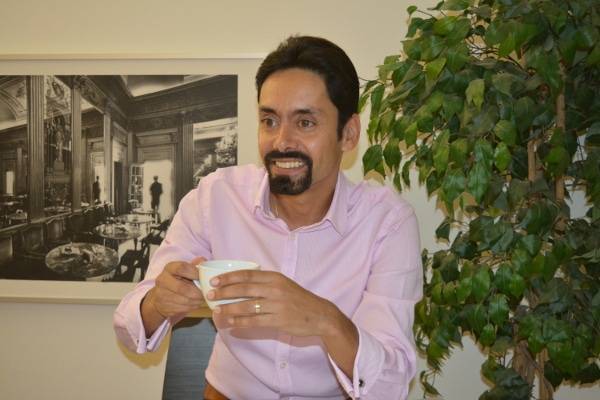 10 Questions to Kishor Sridhar
If the day had 25 hours, what would you do with the extra hour?
I would read! I already read a lot, but between work, lectures and family that still comes short. There are so many interesting books to discover in the world!
Which philosophers would you like to talk to?
Definitely Karl Popper! His epistemology around irrational rationalism and falsification inspire me time and again in my work. I would like to talk to Karl Popper about the social challenges in our societies. His work on the open society is, in my opinion, more important today than ever. But I would also like to meet the great Indian philosopher Jiddu Krishnamurti. In his thinking, he has always traced us back to the true nature of man, a modern, humanistic Stoic. Very exciting!
What was your dream job as a child?
Like most children, train driver. That did not work out then. However, nowadays I still love to ride the train across Europe.
Where do you get inspiration from?
From my children! They are spontaneous and bring their feelings much more into their actions. Actually, we are all children. At a certain age, we try to pretend that we act rationally and are reasoned. In old age, the child in us breaks through again. Every leader should intensely observe children playing. You learn a lot more about human nature than in any executive training.
What is home for you?
My German teacher Bernhard Hartmann always said that language is your home. He is right. I work and write a lot in German. On the other hand, my wife and I still speak English together and I work a lot in English and I also speak English with my Indian relatives. Thus, Germany and the English-speaking world would be my home. But I would like to add, that home is not just language, but also where you are loved and that's ultimately the family for me.
Your wife is Russian and you lived in Russia for a while. What do you think we can learn from Russia?
What I have learned is not to see obstacles as insurmountable. Russians often understand how to build a lot with very little resources. They learned this virtue in need, but we should take it as an example. You can achieve so much with so little. But we can also learn a new sense of family from Russians. It used to be stronger, but we lost a bit in Germany. Families are the foundation of our society!
What do you love about your job?
The many opportunities to meet different, interesting people. I also love the diversity. Writing, lecturing, researching, consulting. These are so many aspects that I like to do. I actually have a wonderful job.
What character trait annoys you about your fellow human beings?
I'm annoyed by people who find a problem for every solution. Although I'm not stingy about them. They just waste their precious lifetime. Instead of first exploring the possibility of discovering the big picture, they slow down themselves at the beginning. Too bad.
How do you relax after a busy day?
I play or chat with my children. Then I'm immediately in another world. Or I go for a run in the woods. The mind comes to rest and I draw new ideas immediately.
You are half-Indian and half-German. When are you more Indian, when more German?
My punctuality is typically German. Tardiness is for me time theft. I'm also pretty German in terms of the way to do accurate research and understand things. As for the love of German literature. Although I noticed that German literature is more popular abroad than with many Germans themselves. Especially Indians appreciate German writers very much, maybe here I'm Indian … Indian is definitely my temperament, my sense of humor and my way of thinking outside the box and the understanding of people's feelings.